"Lieux d'innovation - Quel impact? Comment le mesurer? Innovation spaces: What is their impact? How to measure it?"
Joint organization NUMA Paris / newPIC chair
The conference will be held on NUMA premises, 39 rue du Caire, F-75002 PARIS
Panel members
:
Bernard LLEDOS, Directeur du Centre d'innovation I-LAB (Air Liquide),
Maeva TORDO, Co-fondatrice de Blue Factory (accélérateur de l'ESCP), de Social Bar et Noise,
Emmanuel RIVAT, Co-fondateur et CEO de l'Agence Phare,
Nicolas BARD, Co-fondateur de MAKE ICI (ICI Montreuil).
Convenors
:
Valerie MERINDOL and David W. VERSAILLES, PSB / newPIC et
Roxane SCHULTZ, Innovation programs manager chez NUMA
Registration here...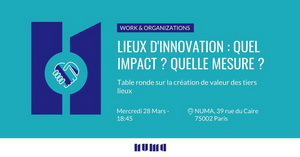 Some more words about the meeting:
Les tiers-lieux sont présentés aujourd'hui comme un enjeu clé pour innover dans un monde digital où il est toujours nécessaire de casser les silos, de mettre en place de la transversalité, de développer l'esprit entrepreneurial et de diffuser la philosophie des « makers ». Au service du développement de nouveaux écosystèmes, les tiers-lieux contribuent à la gestion des actifs incorporels, à l'installation de nouvelles pratiques de travail et à l'évolution des mentalités..
Quelle est vraiment la valeur ajoutée apportée aux différents utilisateurs par un tiers-lieu ?
Il est essentiel de raisonner de façon différente pour les startups, les grands groupes, les Entreprises de Taille Intermédiaire (ETI), les étudiants, etc. Faut-il mesurer la valeur ajoutée d'un tiers-lieu dont l'activité porte sur des actifs incorporels ? Comment établir ces mesures ? Quelles différences faire entre un tiers-lieu indépendant et un tiers-lieu installé par un grand groupe ? Au-delà de mesurer la valeur ajoutée, quels sont les critères clés de réussite d'un tiers-lieu ? Comment décliner la notion de « performance » pour un tiers-lieu ?